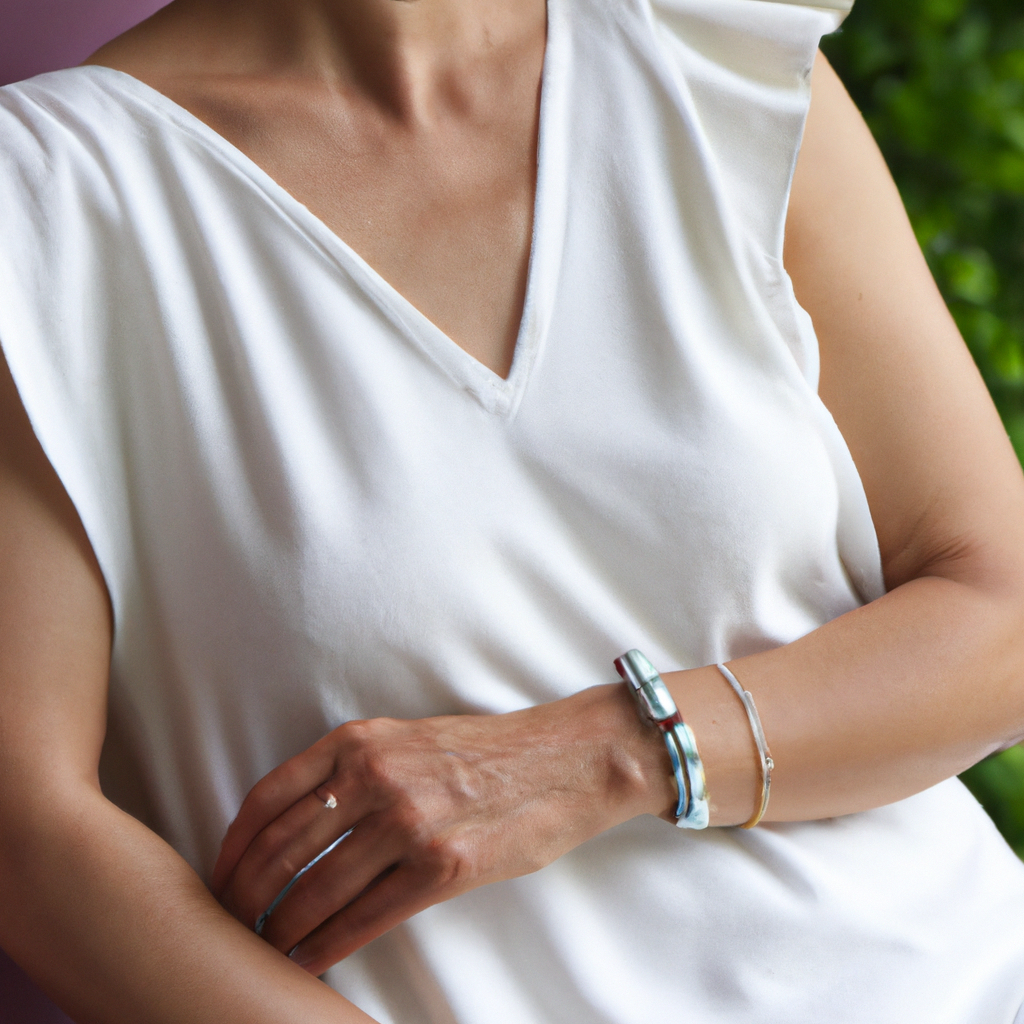 Adding style to your look is easy and fun. It'll make you feel confident. Here are tips to up your fashion game:
Get a statement piece – like a bold necklace, colorful scarf or flashy jacket. It can change a simple outfit into something unique.
Mix textures – like leather and lace, or wool and silk. It adds depth.
Try mixing patterns – stripes and florals for example. It looks great!
Add a pop of color – to neutral outfits. It can make it stand out.
Accessorize smartly – shoes, belts, handbags – choose what suits the look.
Pro tip: Don't be scared to try new things. Fashion is all about expressing yourself, so make it your own.
Accessorize Your Look
Accessories can help you create a stylish look. Go timeless or modern. It's all up to you. Let's see how you can accessorize and step out in style. Rock the fashion world!
Introduction to accessorizing
Accessorizing is a great way to give your outfit a stylish flair. Here's how to do it:
Keep it simple – Don't overdo it with too many items.
Match metals – Stick to wearing either gold or silver jewelry.
Consider the occasion – Pick accessories that fit the situation.
Add a pop of color – Use a scarf or bag in a bright hue to make your outfit stand out.
By following these tips, you can easily accessorize and give your look a fashionable update.
Choosing jewelry that works for you
Choosing jewelry to match your outfit can be hard. But it's a fantastic way to upgrade your look and add chicness. Here are some tips to help pick the right jewelry:
Think of the event: Choose jewelry that fits the event. Small studs, thin chains, and bracelets are good for professional settings. Cocktail rings, chandelier earrings, or statement necklaces are perfect for nights out and special occasions.
Don't overdo it: If you're wearing flashy jewelry, keep the rest of the outfit plain. Busy prints or lots of accessories can clash with statement jewelry.
Match colors: Go for metals that suit your skin tone and outfit color. Warm skin tones look great with gold and rose gold. Cooler skin tones look great with silver and platinum.
Consider the neckline: Select jewelry that goes with your top or dress' neckline. If you're wearing a V-neck or scoop neck top, a simple pendant necklace is good. For a high neckline, statement earrings or a chunky cuff bracelet look great.
By following these tips, you can choose jewelry that elevates your outfits and takes your style to the next level.
Adding a belt or scarf to your outfit
Adding a belt or scarf to your wardrobe is an easy, inexpensive way to jazz up any ensemble. Here's some advice for belts:
Cinch in your waist for a more polished look.
Match your belt to your shoes, or other accessories.
Experiment with different belt styles – wider ones work great with dresses and high-waisted pants, while thinner ones are perfect for jeans and skirts.
Now, for scarves:
Use them to bring texture, color, and pattern to a basic outfit.
Match your scarf to your shoes or accessories.
Try out different types of scarves – silk for formal events, cotton for casual.
Belts and scarves can take your look from dull to dazzling in no time!
Create a Layered Look
Make your outfit stand out! Layer clothing for an interesting look. Mix and match different fabrics. Get creative and add style and dimension. Plus, layering can keep you warm in the cold.
Here are some tips to help you layer like a pro:
Start with a lightweight base layer like a tank top or camisole.
Add a long-sleeved shirt or sweater on top of the base layer.
Layer a vest, cardigan, or blazer on top of the shirt/sweater.
Accessorize with a scarf or statement necklace.
For bottoms, try layering tights or leggings under a skirt or shorts.
Finally, mix and match textures and patterns to add interest to your outfit.
Layering basics and guidelines
Layer your look for a stylish vibe! It's easy with these basics. Start with a tank top or t-shirt that fits close. Add a sweater or cardigan that's slightly looser, and that complements the color or pattern of your base layer. Top it off with a jacket or coat that ties it all together. Make each layer visible by choosing pieces with distinct lengths, textures, and shapes. Amp up the style with accessories like scarves, hats, and jewelry. Don't be afraid to mix and match different patterns, textures, and colors for a unique touch.
Mixing and matching patterns and textures
Mixing patterns and textures brings depth, personality and interest to any room. But, it can also look cluttered if done wrong. Here are tips for doing it like a pro.
Start with a neutral base – Like a plain sofa or walls. This makes it easier to add various patterns and textures without making it too busy.
Stick to a color scheme – Choose one and stick to it. Helps to tie together all the patterns and textures.
Blend textures – Don't be afraid to mix different textures, such as leather, wool and velvet. Adds warmth and depth.
Use patterns in different scales – Mix patterns of different sizes to add contrast and interest. Small scale patterns go well with larger prints or stripes.
Pro tip: To avoid going too far, use the 60-30-10 rule. Choose one dominant pattern to cover 60% of the room, another 30%, and a smaller one 10%.
Layering with outerwear
Layering with outerwear can create a chic, cozy look. Tips to master it?
Start with a basic foundation – like a neutral t-shirt or sweater.
Add a mid-layer – like a button-down shirt, cardigan or denim jacket.
Finish with outerwear – like a trench coat, wool coat or leather jacket.
Accessorize – with a scarf or beanie. But be careful – too many layers can make you look bulky!
Follow these tips for a functional and fashionable look.
Play with Colors
Colors can totally change an outfit. To make something stand out or just to add a classy vibe, why not play around with colors? You don't have to be a fashion guru or know all the trends to add panache to your style. Understanding the basics of color coordination and combining different hues, you can craft a look that is truly one of a kind. Let's check out how to use color to upgrade your look!
Understanding color palettes and schemes
Color palettes and schemes are essential in fashion designing. They can bring a stylish touch to any outfit if used the right way.
A color palette is a collection of colors that go together. A color scheme is a mix of colors that create a certain mood.
Popular color schemes include:
Monochromatic – one color in different shades. Gives a clean and sophisticated look.
Analogous – colors next to each other on the color wheel. Creates a balanced and cozy effect.
Complementary – colors opposite each other on the color wheel. Makes a bold and high-contrast look.
Triadic – colors evenly spaced on the color wheel. Generates a vibrant and dynamic feel.
Think about the occasion, formality, and your personal style when choosing a color scheme. Use color wisely to not overwhelm your outfit.
Pro Tip: Try out various color schemes to discover your unique style and stand out!
Using complementary colors to add style
Incorporating complementary colors into your look is a great way to add some style. Complementary colors are those that are opposite each other on the color wheel – like red and green, blue and orange, and yellow and purple.
Here's how to use this trick:
Pick one main color and pair it with its complementary color.
Feel free to go bold with color, but sometimes less is more.
Use complementary colors as accent pieces in a neutral outfit.
Test different color combos and find what works best for your style and complexion. You'll be amazed at how much a complementary color can switch up your look!
Tips on color blocking
Color blocking is all about pairing different shades and hues to create the perfect look. Here are a few tips to help you get it right:
Stick to two or three colors. Don't overdo it. Keep it chic!
Mix neutrals with brights. Black, white, grey and red or blue can make a bold look.
Use the color wheel. Complementary or analogous colors will create a cohesive palette.
Add prints & patterns. Mixing them with solid colors will bring depth to your outfit.
Pay attention to fit. Make sure each piece fits well and is in proportion.
Follow these and you'll be a master of color blocking in no time!
Dress for Your Body Type
Discovering an outfit that makes you feel great is the perfect way to show off your style! Knowing your body type is crucial for a stylish outfit. Are you petite, tall, curvy, or straight? Knowing the correct shapes and styles can make you look your best.
Let's explore how to dress for your body type!
Identifying your body type
Discovering your body type is vital to dress in a way that shows off your features. There are three main types: Ectomorph, Mesomorph, and Endomorph.
Ectomorphs have small frames, narrow shoulders and high metabolism. Layering, ruching and structured jackets look great on them!
Mesomorph body types are athletic and have broader shoulders than hips. Tailored, fitted or wrap dresses are the best fit.
Endomorphs have larger frames, a pear-shape, and slow metabolism. Empire waist dresses, A-line skirts, and boot-cut pants are ideal.
Once you figure out your body type, dress to flatter your natural features and boost your style.
Choosing the right clothing items for your body type
Selecting the perfect garments for your body shape is important to spice up any ensemble. It's essential to identify your body type and dress accordingly to showcase your best attributes. Here's how to dress for each:
Apple shape: Pick out flowing tops and dresses that skim your middle. High-waisted pants and skirts will create an illusion of longer legs. Avoid tight or form-fitting clothing around your waist.
Pear shape: Look for A-line dresses and skirts that flare out from the waist. Wear fitted tops that show off your waistline. Denim jeans or pants should be straight-leg or wide-leg.
Hourglass shape: Choose fitted clothing to flaunt your curves. Belts are an ideal way to emphasize your waist. High-waisted pants, skirts, and dresses will elongate your legs.
Rectangle shape: Search for clothing that gives you a curvier look. Dresses with a cinched waistline or belts to create a waistline flatter this body type. Don't wear baggy or shapeless clothing.
Pro Tip: Dress to show off your best features and be confident in your own skin.
Experimenting with styles that flatter your body type
Dressing for your body type can be tricky. Experiment with different styles to find what looks best on you! Here are some tips to style any outfit:
Hourglass: Show off your waist with form-fitting clothing. Belts and high-waisted pants or skirts look great. Off-the-shoulder tops and V-necklines complement the shape well.
Apple: Show off your legs with A-line skirts and dresses or straight-leg pants. V-necklines and flowy tops balance it out.
Pear: Draw attention to your upper body with off-the-shoulder tops or statement necklaces. Wide-leg pants and A-line skirts are also good.
Rectangle: Create curves with clothing that has texture, ruffles, or asymmetrical designs. Belts, wrap dresses, and tops with cinched waists add definition.
Be brave! Step out of your comfort zone and try new things for a unique style.
Don't Be Afraid to Accessorize
Accessorizing is a must! It can make a standard outfit extraordinary. There are endless ways to accessorize. Jewelry, scarves, hats, sunglasses – the options are seemingly endless. With a few simple touches, you can give your look style and character. Let's discover the best ways to accessorize, and how to choose the perfect pieces for any look.
Experiment with statement pieces
Bring personality and style to any outfit with statement pieces! Accessories can make a basic look stand out.
Pro tip: Consider the occasion and tone when choosing. For formal events or office settings, subtle pieces like an eye-catching watch or colorful earrings are the way to go. For casual settings, go wild with a statement necklace, handbag, or scarf.
Remember: Bold pieces work best when you keep other accessories minimal. Don't mix too many statement pieces at once.
Branch out with unique footwear choices
Switch up your shoe game! Try different and one-of-a-kind shoes that will give your outfit an extra bit of flair. Here are some ideas:
Scarf Tied Sandals: Tie a beautiful scarf around your ankle in a knot for a cool, boho effect.
Statement Heels: Pick attention-grabbing heels – bright colors, patterns, or special shapes.
Lace-up Flats: Feminine flats with ankle ties will upgrade your look.
Embroidered Boots: Get embroidered boots with floral designs for a vintage vibe.
Metallic Sneakers: Metallic sneakers will turn a casual outfit into a statement.
Tip: Have fun and mix textures, colors, and patterns. Unusual footwear adds personality to your style!
Finish off your look with a stylish bag
Adding a stylish bag to your getup is a fabulous way to enhance your overall look and show off your distinctive fashion style. With so many hues, sizes, and shapes to choose from, there's a bag for every moment and taste.
Here are some tips for topping off your ensemble with a fashionable bag:
Choose a bag that matches your clothing in terms of color, style, and formality.
Take into account the event and pick a bag that fits the dress code and atmosphere.
Invest in superior and classic pieces that will last and keep up with fashion trends.
Don't be scared to blend and match different materials, textures, and patterns for an eccentric and personalized style.
Remember that a fashionable bag is not just practical but also a representation of your special personality and taste.
Frequently Asked Questions
Q: What are some easy ways to add a touch of style to any outfit?
A: One simple way is to accessorize with statement jewelry or a trendy scarf. You can also experiment with layering different pieces or adding a pop of color with shoes or a handbag.
Q: How can I incorporate vintage pieces into my outfit without looking outdated?
A: Mixing vintage pieces with modern elements is key. For example, pair a vintage blouse with high-waisted jeans and sleek boots for a chic and contemporary look.
Q: Are there any fashion rules I should keep in mind when adding a touch of style to my outfit?
A: While fashion rules can be helpful, don't be afraid to break them and experiment with your style. The most important thing is to wear what makes you feel confident and comfortable.
Q: How can I dress up a casual outfit for a special occasion?
A: Adding a structured blazer or a pair of heels can instantly elevate a casual outfit. You can also switch out your everyday accessories for something more glamorous, like a statement clutch or chandelier earrings.
Q: How can I make sure my accessories don't overpower my outfit?
A: Choose one or two statement pieces and keep the rest of your accessories simple. For example, if you're wearing a bold necklace, opt for stud earrings instead of big hoops or statement cuffs.
Q: What are some versatile pieces I can invest in to add a touch of style to any outfit?
A: A classic trench coat, a white button-down shirt, and a pair of black ankle boots are all versatile pieces that can be dressed up or down and mixed and matched with different outfits.