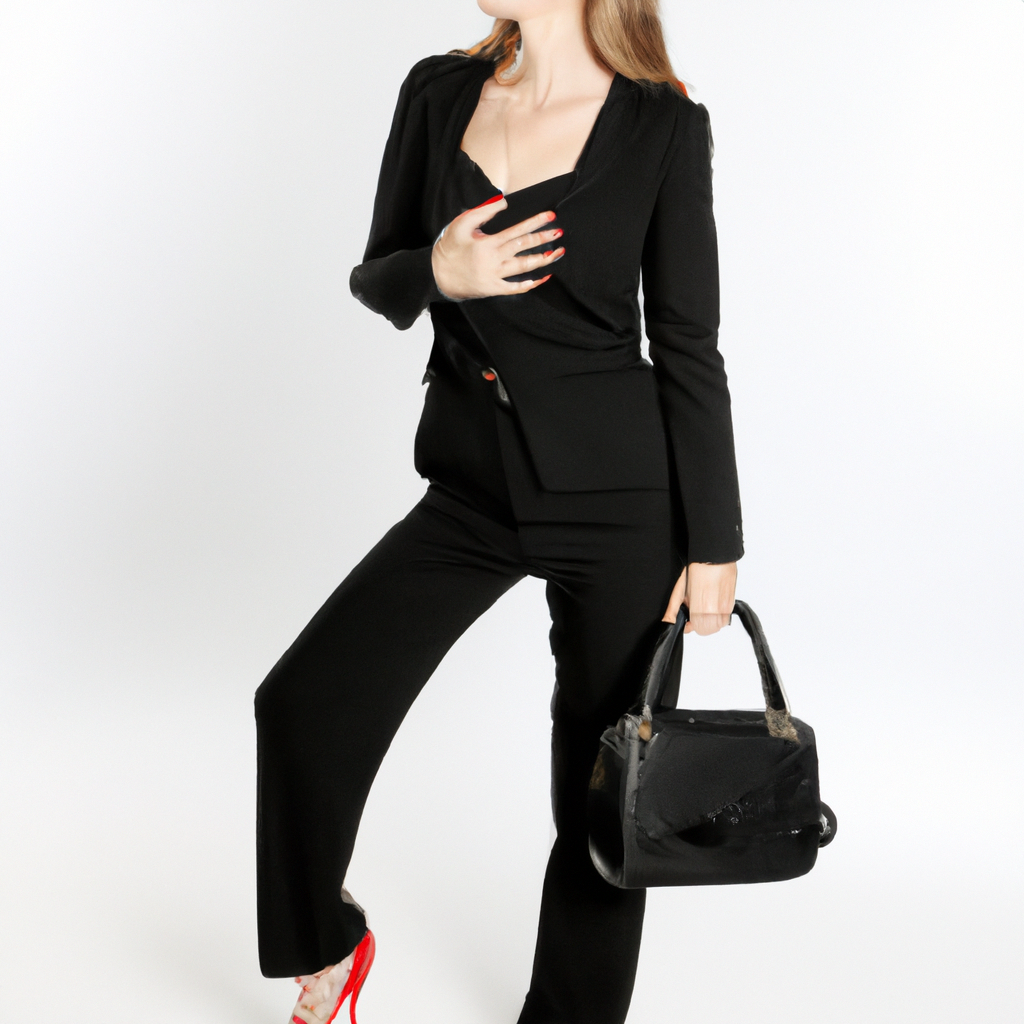 Busy moms often forget fashion, but with a few tips you can look and feel great without sacrificing comfort!
Here are 5 fashion tips for busy moms on the go:
Wear comfy, versatile pieces like leggings, a t-shirt and a denim jacket.
Invest in accessories like scarves, jewelry and tote bags to spice up your wardrobe.
Keep fresh with dry shampoo, lip balm and travel-size perfume.
Neutral colors are best, with pops of color from accessories.
Comfort is key for shoes – go for sneakers or slip-on flats.
By following these tips, you can transform from a busy mom to a stylish supermom!
Quick and Easy Wardrobe Essentials
Busy mamas on the move need fast, easy wardrobe basics. Comfort and style can sometimes be a struggle to combine, but with a couple of key items, you can create a versatile closet. Let's take a peek at the must-haves every busy mom should own!
The Little Black Dress
The Little Black Dress (LBD) is a must in any busy mama's wardrobe! Versatile and perfect for any event, here's some advice on picking the right LBD:
Pick a classic silhouette that suits your body type.
Choose high-quality fabric that'll be strong and last through washes.
Be aware of the event and accessorize accordingly. Dress it up with heels and jewelry for special occasions, or down with flats and a denim jacket for a relaxed look.
The LBD is straightforward and stylish – a go-to for a chic and effortless look. Pro tip: Invest in a quality LBD that'll last you for years.
Versatile Tops and Blouses
Versatile tops and blouses are must-haves for any busy mom. They can switch from day to night and suit a range of looks. Here's how to choose the best ones for your wardrobe:
Go for colors like black, white, beige and navy — they're easy to style with any bottoms.
Opt for simple designs and clean lines. This way, you can dress them up or down.
Choose fabrics that won't crease and are easy to care for, like cotton, polyester or rayon.
Play around with styles like button-up blouses, flowy tunics or fitted t-shirts to find what works for you.
With these tops and blouses, you can make a variety of outfits without compromising on style or comfort.
Classic Pair of Jeans
A classic pair of jeans is a must for busy mums on the go. Finding the right one can be tough. Here are some tips to make it easier.
Pick a style that is comfy and suits your shape. For instance, a straight-leg looks good on most.
Dark wash is great. It's versatile – dress up or down.
Pay attention to the fit. A good fit makes you look and feel confident.
Invest in quality. They'll last longer and hold their shape.
A classic pair of jeans can be dressed up or down. Heels and blouse for a night out. Or sneakers and t-shirt for casual days.
Accessorizing for a Busy Mom's Lifestyle
Busy mums, no time to spare? Accessorizing is ideal to level up your look – no outfit change required! Let's talk about accessorizing for a busy mama's lifestyle! It's quick, easy and you'll look great for any occasion.
Statement Earrings
Statement earrings are perfect for busy moms on the go. Here's how to accessorize with them:
Keep it simple. If you're wearing bold earrings, pair them with a simple outfit.
Choose the right style. For shorter necks, try drop earrings instead of bulky hoops or chandeliers.
Coordinate with your outfit. Match your earrings with other accessories such as your handbag or shoes.
Pro tip: Consider the occasion before choosing statement earrings. Big hoops might be too much for a business meeting, but work great for a night out.
Stylish Scarves
Stylish scarves are ideal for busy moms who desire to look polished while on-the-go. Here are a few style tips for mums to incorporate scarves into their wardrobe:
Pick practical scarves: Look for scarves made of lightweight, breathable fabrics that can be worn in various ways. Such as knotting them around the neck, draping them over shoulders, or even using them as a headband.
Match it with basic outfits: Scarves are ideal for adding a touch of color or pattern to simple clothing. Just drape it over a white tee or layer it with a denim jacket to rock your look.
Test out different prints and patterns: Don't be scared to combine different scarf designs with your clothes. You can go with classic prints like polka-dots and stripes or make a statement with striking florals or animal prints.
Remember, scarves can be a flexible addition to any busy mum's wardrobe, adding character and style to any outfit.
Fashionable Tote Bag
Tote bags are a stylish accessory for mums on the move! They provide plenty of space for baby items or personal belongings. There's a huge range of materials, styles and sizes to select from. So, how do you accessorize with a tote bag?
Pick a color or pattern that goes with your style.
Go for a size that fits all your needs without being too large.
Choose a material like leather or canvas. It should be tough and easy to clean.
Add extra pockets or compartments to stay organised.
Use your tote to brighten up neutral outfits or jazz up casual ones.
Pro tip: When shopping for a tote bag for a busy mom, make sure it's both fashionable and practical.
Time-Saving Beauty Hacks
Busy Moms, listen up! Need help with your beauty routine? Fear not. There are easy time-saving methods to help you get ready quickly. Makeup shortcuts? Yup! Hair tricks? Of course! These hacks will make the most of your limited time and let you look your best. Ready to learn more? Read on!
Multitasking Makeup Products
Busy mums on the go want to look their best – multitasking makeup products are a lifesaver! These products serve multiple purposes and make life much easier.
Check out the best multitasking makeup products:
BB Cream: This product is a mix of foundation, moisturiser, sunscreen and primer – all in one application! Pro Tip – Pick a BB cream that matches your skin tone, and provides the necessary coverage and SPF.
Lip & Cheek Stain: Perfect for a natural flush to your cheeks and subtle color to your lips. Choose a shade that complements your skin tone.
Mascara with Eyelash Curler: Some mascaras come with a curler built in – no need for a separate product! Using mascara guards against irritations and saves time.
Plus, there's brow gel with a built-in brush, tinted brow gel with a mascara wand, and eyeshadow doubling as a highlighter.
Fact – Multitasking products reduce clutter in your makeup collection, save money, and make travelling easier.
Effortless Hairstyles
Achieve a chic, polished look and save time as a busy mom with these three easy hairstyles!
Messy bun: Gather hair in a high ponytail, twist it, and wrap around itself. Pin with bobby pins and pull out a few loose strands.
Low ponytail: Brush back hair then gather into a low ponytail at the nape of your neck. Secure with elastic and wrap a small section of hair around the band.
Half-up, half-down: Section off the top half of your hair, twist and secure with bobby pins at the back. Let the rest fall loosely around your shoulders.
These effortless hairstyles are great for those rushed mornings when you need to look put together quickly!
Skincare and Makeup Routine Tips
Busy moms on-the-go have limited time for a skincare and makeup routine. Here are some time-saving beauty hacks:
Skincare:
Find a cleanser with built-in exfoliation to reduce scrubbing time.
Apply a moisturizer with SPF to hydrate and protect.
Reach for a tinted moisturizer instead of foundation for a quick, natural look.
Makeup:
Get a multi-use product like a lip and cheek tint to add color in one swipe.
Invest in a waterproof mascara to avoid touch-ups.
Swipe a clear brow gel to keep eyebrows in place without filling them.
By following these simple tips, you can look your best despite a busy schedule!
Dressing Up for Special Occasions
Moms! Busy lives can leave us feeling overwhelmed. For those special occasions where we need to look our best, dressing up can be tricky. Here are our top tips to make sure you look fabulous. Let's get started!
Chic Holiday Party Outfits
Holiday parties are the ideal time to put on your trendiest clothes. Here are some great outfit ideas for you to shine:
Statement Dress – Go for a striking dress with glitz, metallics or striking patterns. Adorn it with simple accessories and a neat hairstyle to draw everyone's eyes.
Festive Separates – Put together a cheerful skirt with a plain top or a show-stopping blouse with ordinary pants. Mix textures and prints to create a one-of-a-kind look.
Cozy Knits – For more relaxed events, pick out a comfy sweater dress or jumper along with leggings or tights and boots.
Have fun with your outfits! Try different shades, designs and textures to find the perfect holiday getup.
Pro Tip: Don't forget to accessorize to take your look to the next level.
A Night Out with Friends
Head out with pals and look fab! Busy mamas, here's some style advice.
Be comfy! Select clothes that are easy to dance or walk in.
Keep it simple with accessories. A few statement pieces like earrings or a colorful necklace are enough.
Plan ahead and have your outfit ready.
Dress for the event. Jeans and a blouse are great for a bar, but something dressier for a fancy dinner or party.
Most of all, wear what makes you feel confident. Have a great time with friends and your outfit!
Family Weddings and Events
Family weddings and events require you to dress up nicely. But, being a busy mom, it can get tricky to find the perfect attire. Here are some fashion tips to make it easier and ensure you look gorgeous:
Get ready in advance: Start looking for outfits a few weeks or even months before the big day. This way, you'll have plenty of time to check out several stores and pick the ideal outfit that suits your look.
Stay simple: Pick an elegant dress that you can accessorize to fit the occasion. Opt for classic cuts and neutral colors for a safe bet.
Comfort is essential: As a busy mom, you don't want to be bothered throughout the day with your outfit. Choose comfortable shoes and clothing that let you move around freely.
Accessorize wisely: Jewelry, scarves, and handbags can amp up your outfit and add a hint of personality. Pick accessories that match your outfit and keep the dress code in mind.
At the end of the day, the main thing is to feel confident and content with your look, so you can focus on having a great time with your family.
Staying Fashion-Forward while Traveling with Kids
Moms on the go, it's difficult to stay stylish. Diaper bags, toddlers, little time for fashion! But don't worry, this article is here to help. Let's discuss great fashion tips for busy mamas! Look your best even when you're out and about with your kids.
Comfy and Cute Travel Outfits
Traveling with littles doesn't need to mean no style. The right clothes can be comfy and cute. Here are top tips for your fashion journey when travelling with kids:
Cotton, linen, and jersey – choose breathable fabrics.
Go loose-fitting to move freely.
Layering? Yes please! Pack a light cardigan or sweater in case it gets cold.
Jewelry? No thanks – avoid any that could be uncomfortable or get stuck.
Closed-toe shoes – comfy and easy to walk in.
A stylish tote – carry all your stuff in one place.
Follow these tips and you'll look and feel great while travelling with the kiddos. Pro tip: Don't forget an extra outfit – just in case!
Packing Essentials for Moms on the Go
Travelling with kids can be tricky. You want to pack everything, but still look good. Here are the fashion-forward packing essentials for mums on the go:
Versatile Clothing: Choose comfy, breathable fabrics that mix and match. Create multiple outfit combos!
Statement Accessories: Add interest to your look with jewelry, scarves and hats.
Stylish Tote Bag: Pick a classic style tote bag to fit all the essentials – yours and the kids'.
Comfortable Footwear: Opt for shoes that are both comfy and stylish. Flat shoes or low wedges go with most travel outfits.
Lightweight Jacket: Layer up with a lightweight jacket or cardigan. Keeps you warm and dresses up any outfit.
Being a mum on the go doesn't have to mean sacrificing style. Pack these essentials and stay fashionable and comfy throughout your travels.
Incorporating Stylish Pieces into Your Travel Wardrobe
Travelling, especially with kids, can be overwhelming. But don't let that stop you from being stylish! Here's some tips for busy mamas on the go:
Comfort is priority – go for comfy yet fashionable dresses, jumpsuits or tracksuits, suitable both in and out of the plane.
Black and white always fit in – these colors are easy to mix and match and look great.
Accessories are everything – add a statement hat, scarf or jewelry for a touch of flair.
Pack smart – plan ahead and create a capsule wardrobe. Use packing cubes to save space and avoid over-packing.
No need to give up style while travelling with kids. Follow these fashion tips and you'll look and feel great throughout your trip.
Frequently Asked Questions
Q: How can I still look stylish as a busy mom on the go?
A: Embrace comfortable yet trendy pieces such as jogger pants, flowy tops, and statement accessories. Don't be afraid to mix and match patterns and colors to add some fun to your outfit.
Q: What are some essential wardrobe staples for a busy mom on the go?
A: Versatile pieces such as a denim jacket, neutral-colored sneakers, a spacious tote bag, and a comfortable pair of jeans are must-haves for any busy mom's wardrobe.
Q: How can I transition my outfit from day to night as a busy mom on the go?
A: You can switch out your comfortable flats for a pair of trendy heels and add some statement jewelry to take your outfit from day to night in no time.
Q: How can I save time getting ready in the morning as a busy mom on the go?
A: Invest in low-maintenance hairstyles that still look stylish, such as a messy bun or a sleek ponytail. You can also plan and lay out your outfit the night before to save time in the morning.
Q: How can I dress professionally for work as a busy mom on the go?
A: Stick to classic silhouettes, such as a blazer and pencil skirt, and invest in comfortable yet stylish shoes to keep you going throughout the day.
Q: What are some accessories that can elevate my outfit as a busy mom on the go?
A: Statement jewelry pieces such as chunky necklaces, bold earrings, and colorful scarves can instantly elevate any outfit and make a busy mom feel fashionable and put-together.